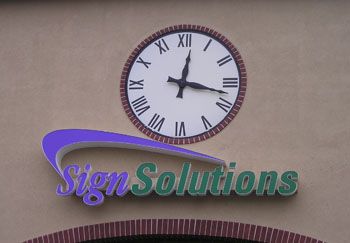 This site includes many functions that allow you to work with us from your office or home. Of course, it's sometimes still necessary (or preferred) to conduct business in-person. That being said, we've provided the necessary information to locate us or make contact with one of our representatives.
Click on the map below and you will be linked to MapQuest. We are located at 550 N. Military Ave. in the Perkins Park Square strip mall behind Family Video on the corner of Bond & Military. We are in Suite 7 which is underneath the large clock on the building.
Stop in to see us!
Our business hours are:
Monday - Thursday: 7:30 a.m. - 4:30 p.m.
Friday: 7:30 a.m. - noon.
Phone: 920.491.9792
Email: sales@signsolutionsgb.com